Rudolf and Raffael Auwärter in the 5-generations interview.
"It hasn't been size, but the continuity and the innovation that has made us what we are today."
The two managers describe their exciting path to becoming trailer specialists.
Is it true that your predecessors used to produce structures completely in wood?
Yes, that's correct. Unimaginable today, but a particular challenge back then that the wagon-maker was only able to implement using his whole experience and a great deal of craftsmanship – from spoked wheels to the complete wooden skeleton structure of the frame.
In the 30s, steel conquered large areas of vehicle construction. Which advantages did this bring?
The development of welding technology, the availability of profile steel and modern laser and edging technology fundamentally revolutionized vehicle construction. It was then possible to realize complicated designs in vehicle construction. The wagon-maker's craft died out, new professions such as metalworker or vehicle body builder arose. Our grandfather respectively great-grandfather was able to experience this change, and often swore in his local Swabian dialect: "Alles Eise, alles scheisse" (roughly "If it's iron, it's useless").
Did the invention of joining technology shape the development your company?
Absolutely. Right up to the 90s predominantly long material trailers were built for carpentry businesses. Overnight it became possible, so to speak, to produce with a high level of prefabrication. This naturally changed the demands on transport for wooden house building. Telescopic trailers and swap systems became increasingly in demand. Innovations from that time, such as stanchion securing or vertical loading are established standards now.
In over 160 years, much remains unforgotten. Is there a project that you look back on particularly fondly?
One of our loyal carpentry customers from the foothills of the Alps is a part-time farmer. He had recently bought one of our tele-tandem trailers with a very low loading platform. A short time later, he called us with a request to offer a kind of railing for the trailer. To the question of why, he responded that the annual drive of the cows from the mountain pastures was approaching, and our EZ120 would be perfect for transporting the cows thanks to its low access level. It was just missing an appropriate way to keep them on.…no sooner said than done.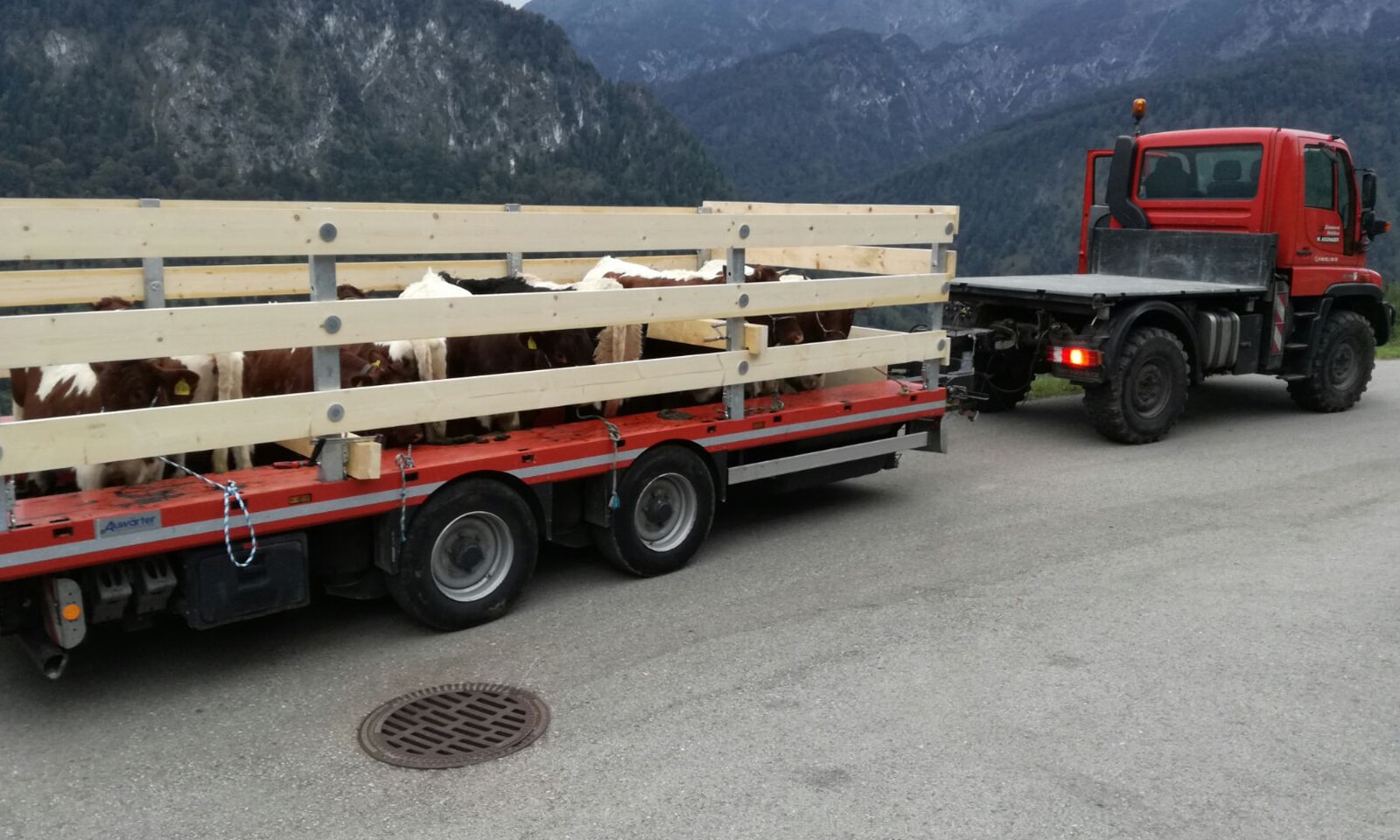 How does it feel to continue a real family history?
To know a business from the ground up, to experience all its highs and lows, to be able to manage a customer base that itself is craft-based ... that is something very special. Even as children we would go in and out of our father's business. To a certain extent that was natural. And it is exactly this continuity that characterizes our family. We have always continued to lead and develop the legacy of our parents. Nothing is lost. By the way, that includes the next generation: our girls are already in the starting blocks.