H-Bock – 9 m support frame

+
Folding side rail
in strong lightweight design
+
Ladder
swiveling with storage
+
Longitudinal bars (railing bars)
with lashing possibility
+
Telescopic stanchion
for the best possible load securing
+
Universal Floor anchors
offset fixing possible
+
Restraint system
front and rear
100 % securing of the slinger at critical heights thanks to railings along the complete side rail surface
No loss of load capacity thanks to folding side rails and storage possibilities between the middle stakes
Compatible with all other generally used swap-body platforms
Low tare weight
Accessories can be stored on the frame or stowed
Recommended by the Berufsgenossenschaft (worker's compensation board)
This support frame fits on every platform, does not reduce space and can be quickly and easily installed – the H-Bock from Auwärter.
The H-Bock is a compatible loading frame with folding middle rail between the stakes. Due to its strong lightweight design, the support frame can be installed on all current flatbed swap-body platforms or flatbed trailers in the shortest time. The slinger works from the side rail freely, securely and without a safety cable. Storing and loading of timber wall elements and timber frames follow correspondingly faster, more precisely and more simply. Thanks to the sophisticated design and folding middle rails, there is no additional loss of load space. Accessory parts such as ladders or side rails can be attached ready for transport on the frame conveniently and saving space.
In our opinion, there is currently no comparable or even close to such a sophisticated safety system on the market.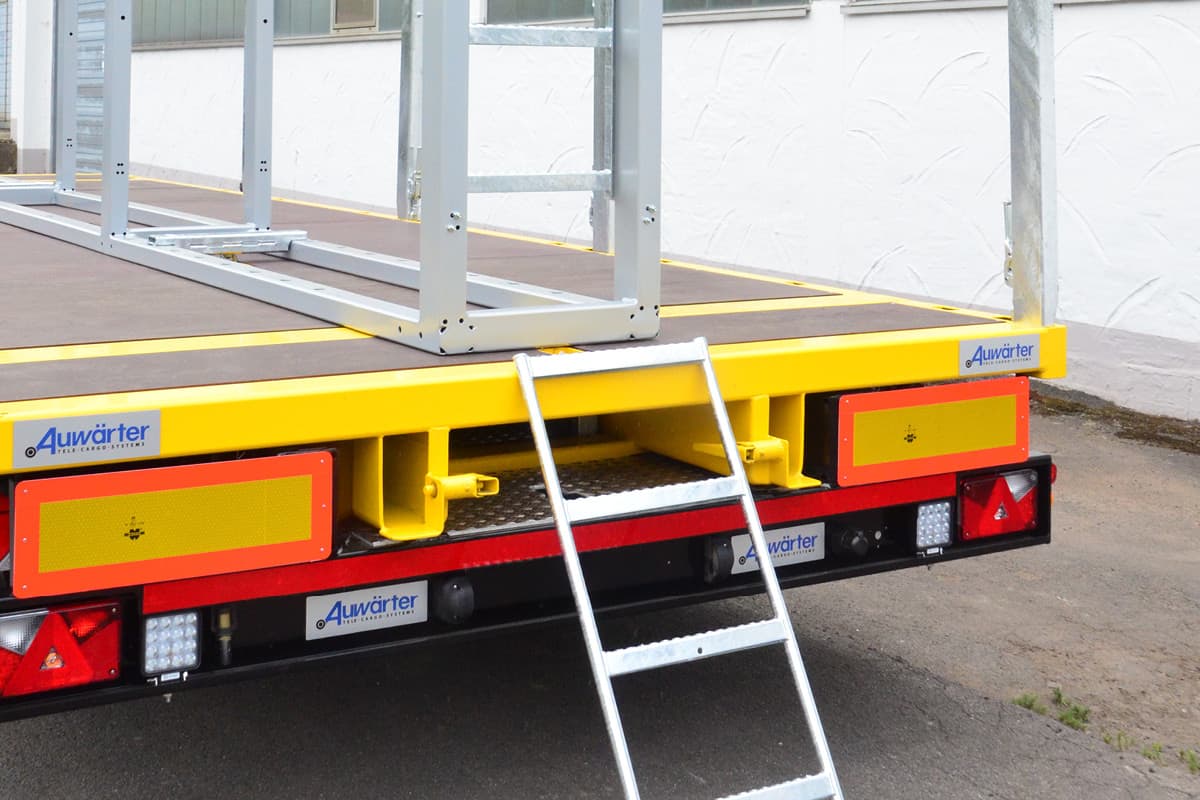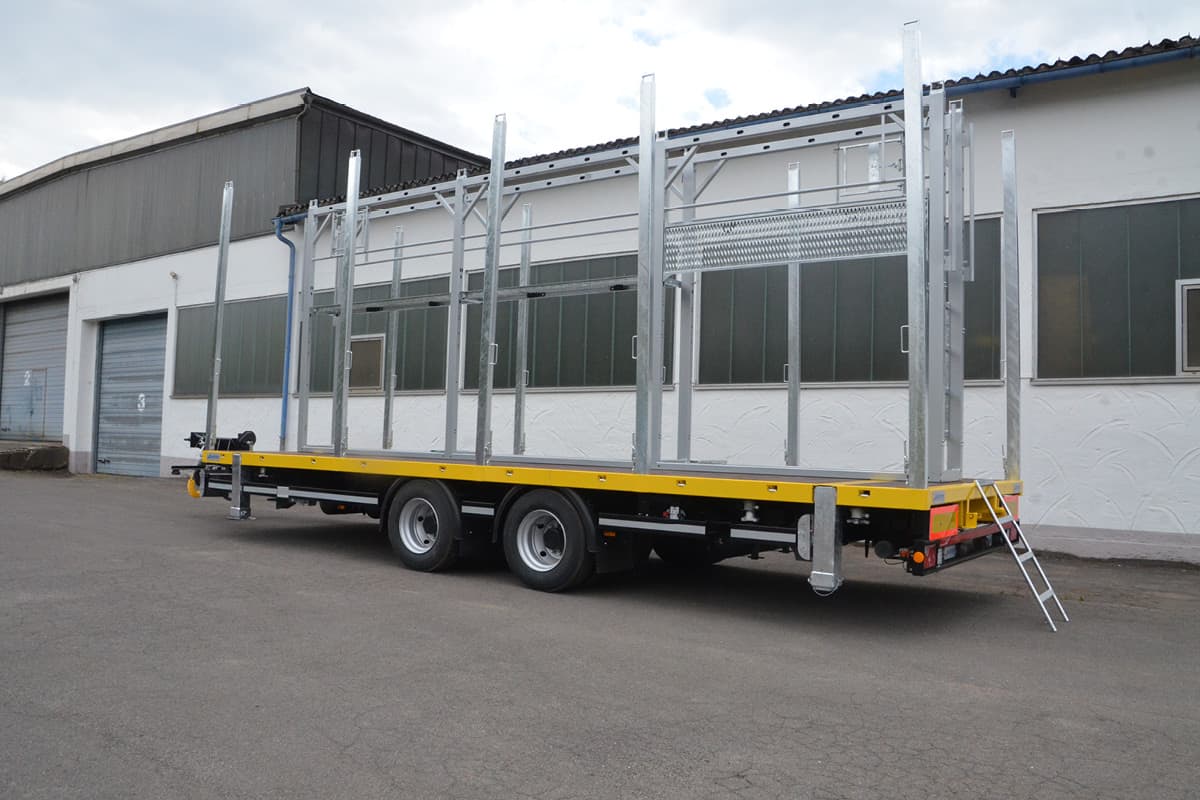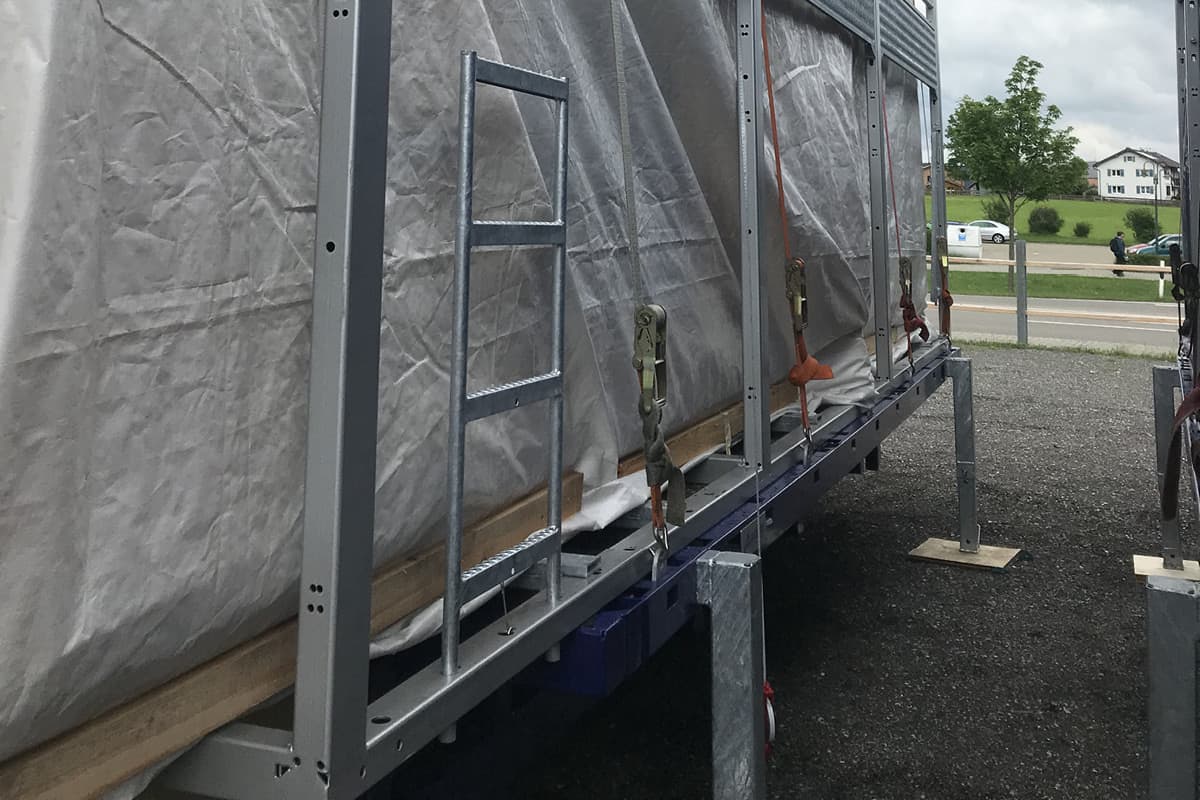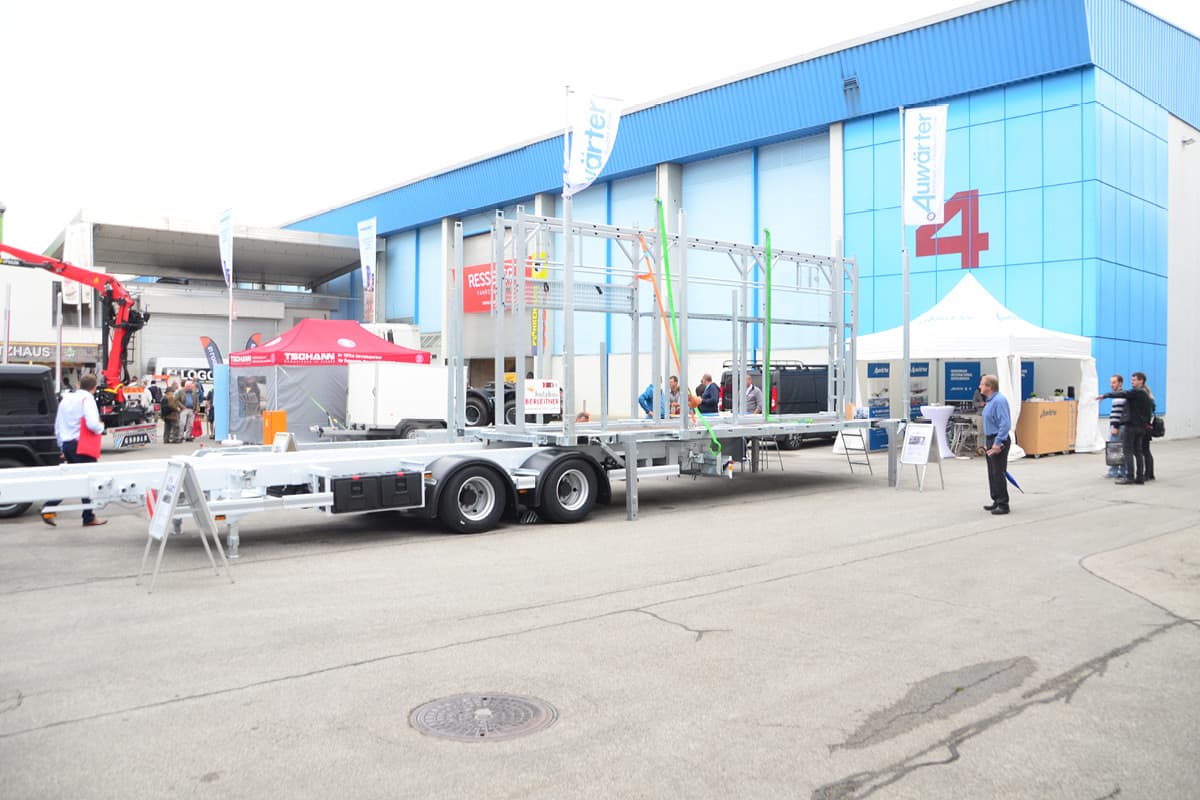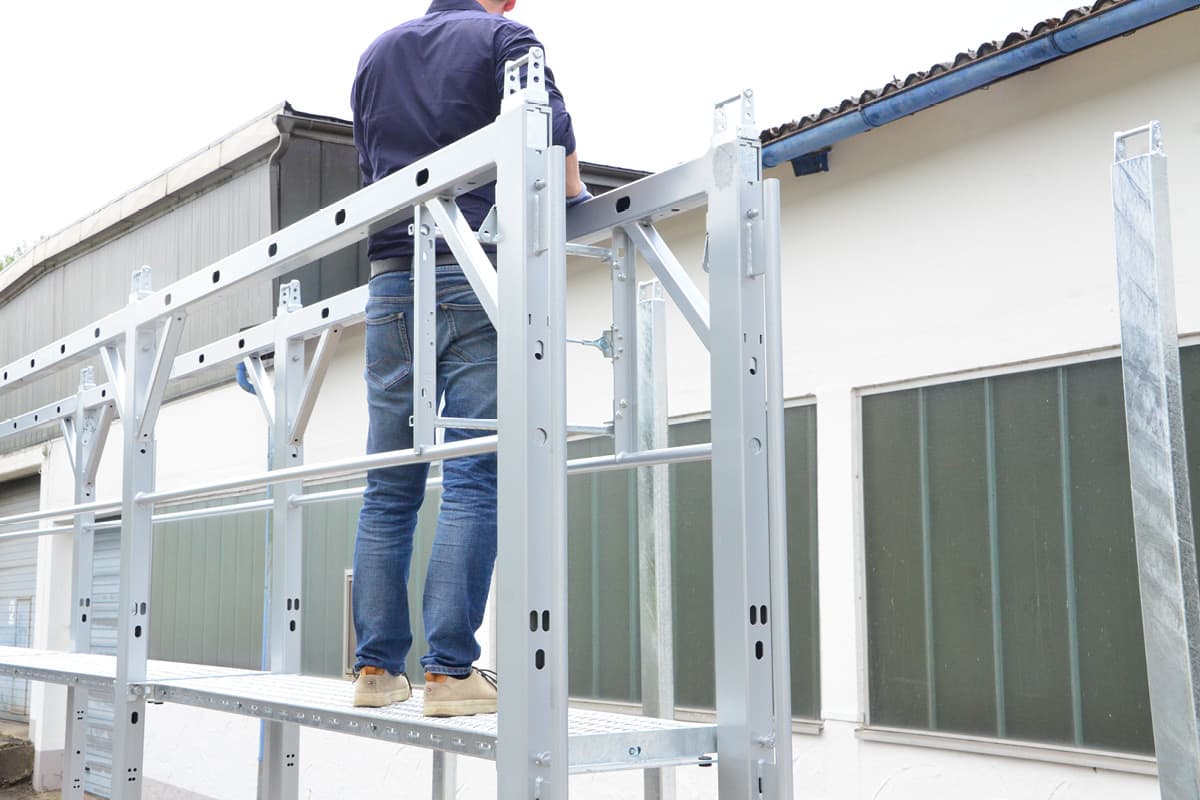 As a practical alternative to current cable safety systems, the H-Bock also proves itself thanks to its compatibility and sophisticated design.
approx. 180 kg
Load capacity of side rail
approx. 2,820 – 3,220 mm
Height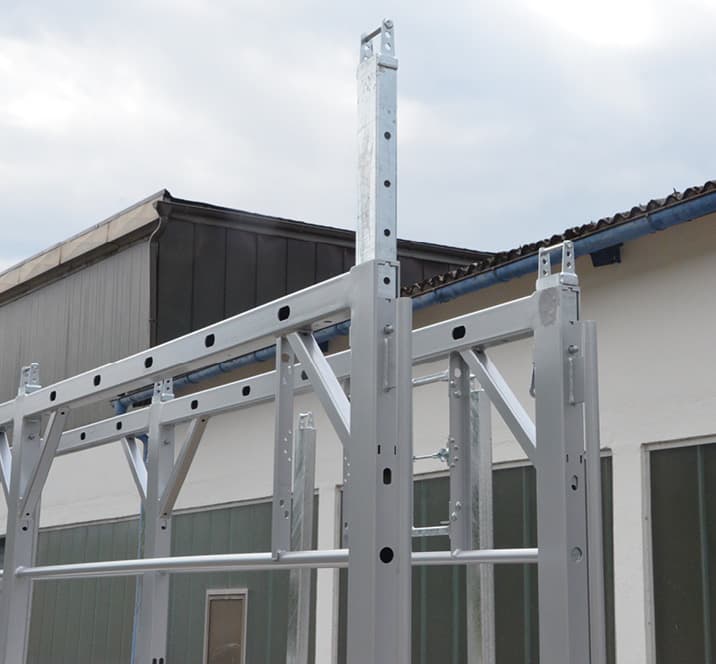 Telescopic stanchion
in steel, continuously adjustable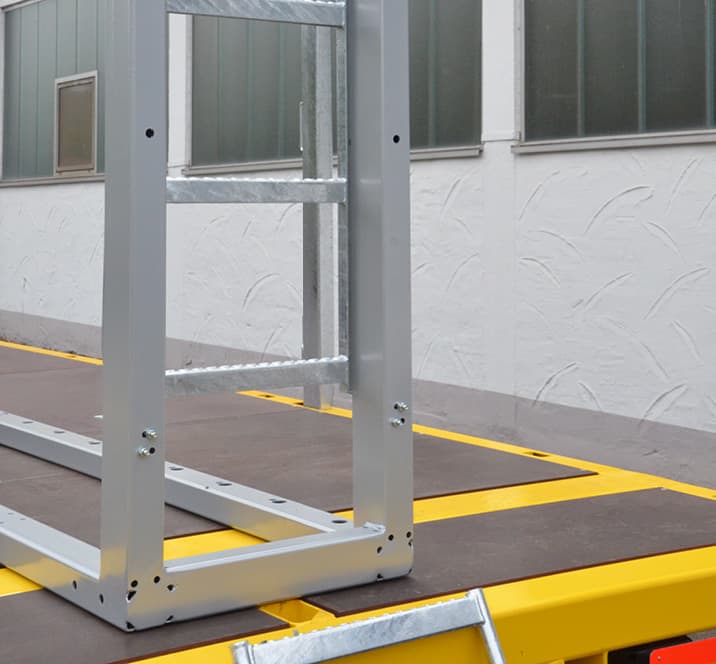 Ladder
pivoting, galvanized and conveniently stored on the H-Bock frame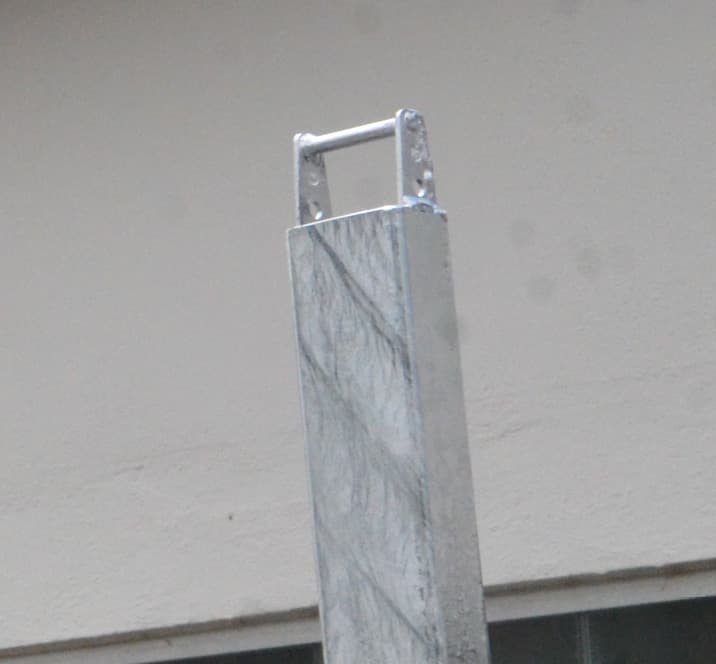 Stakes
with lashing bracket at the top (adjustable from approx. 2,820 mm to 3,220 mm)
Floor anchors
with lifting eye nut for offset attachment and bolting onto the flatbed
You want more information, a call back or a non-binding offer? Write to us and we will deal with your request.
Overview of all swap-body platforms and load aids
Whether low-bed or flatbed platform, mover or support frame – here you can find the appropriate swap-body platform for every trailer type.