XP-BDF210 – 10 m swap body

+
X stanchion bags
on the outer frame 5 pieces each, as well as 5 pieces in the middle of three rows
+
Preparation pluggable H-Bock
off-center stanchion pockets as plug-in option for H-Bock Pro X
+
Lashing possibilities
along the entire length of the outer frame
+
Forklift bags
for easy handling, loading and lifting of the flatbed
+
Heavy duty crane lifting points
sideways 4 pieces each
Low height – 140 mm
Space-saving – supporting legs fully stowable, flatbeds can be stacked on top of one another
Flexible – height adjustable supporting legs for optimal loading
Simple and safe – receivers for twist lock, cranes and forklifts
Can be upgraded to include the GigaBox, with a fixed tarpaulin system for all-round protection
Perfect for long and heavy timber wall elements – the most successful swap body on the market.
In the up to 10 m version, the XP-BDF is a tried and tested all-round load system which facilitates quick, secure loading and storage ready for transport. Thanks to its low design with a frame height of 140 mm and the stowable supporting legs, wall elements can be picked up at low heights. The undercarriage (XP-BDF10m type) comprises the approx. 10 m long GigaFlat low-loader (140 mm) and can be modularly expanded with our unique tarpaulin structure (GigaBox). The XP-BDF delivers its full potential in combination with our low-bed series trailers: the X-SW340 type offset semitrailer and the X-TL240 type turntable trailer. A lifting system intended specifically for this which makes both loading and unloading, as well as internal flatbed handling and maneuvering, significantly easier is optionally available. The XP-BDF can also be given a practical modular upgrade at any time with a wide range of accessory options such as a baffle wall, tarpaulin system, H stand or exterior frame (fall protection).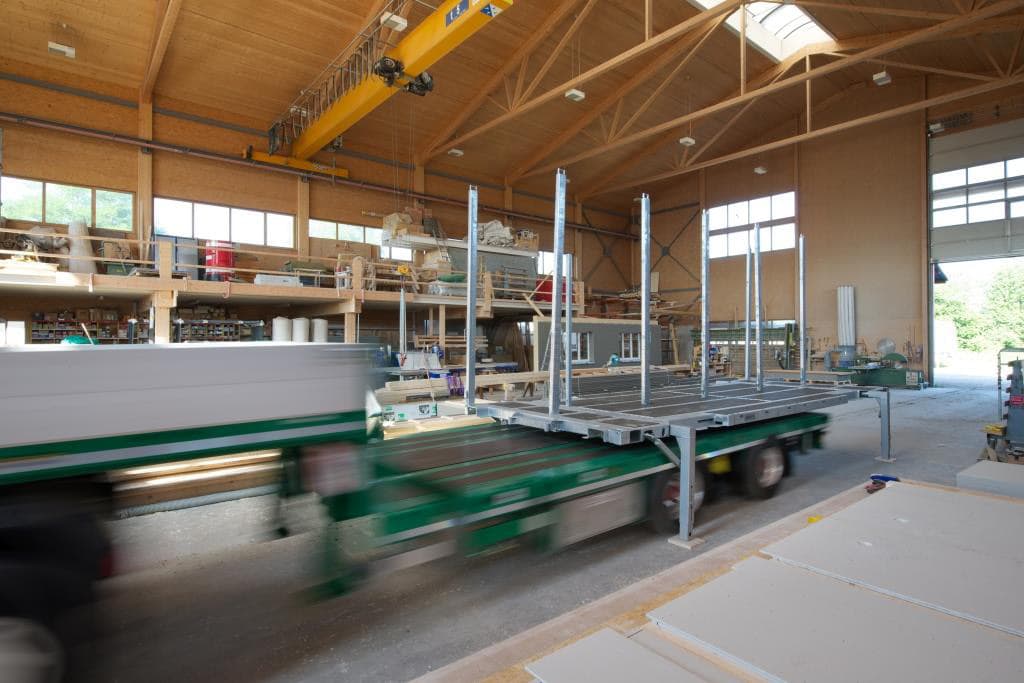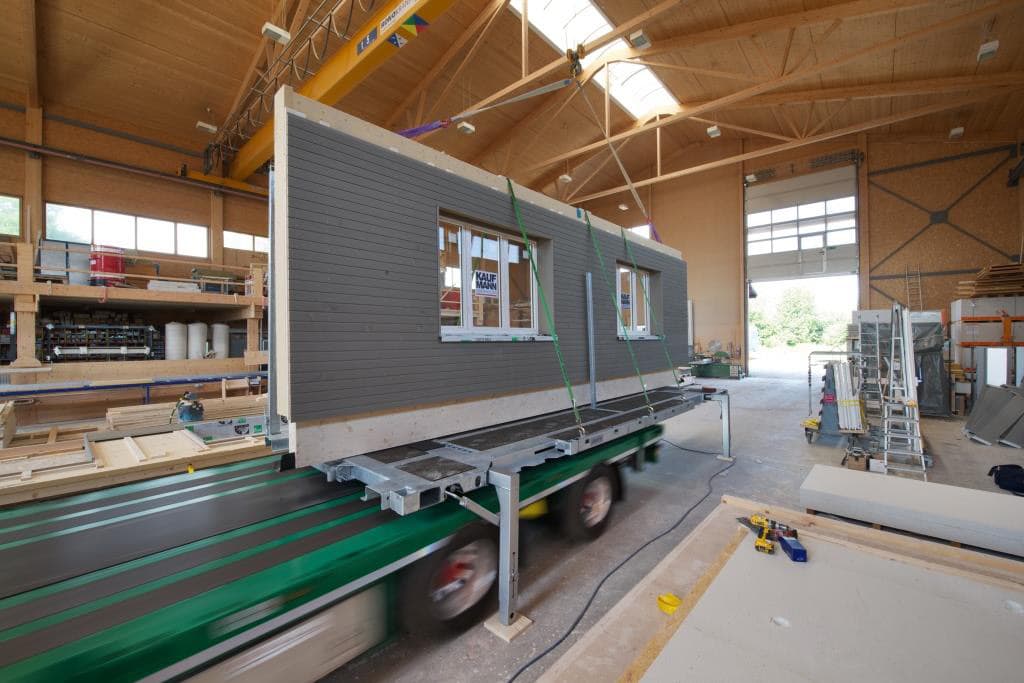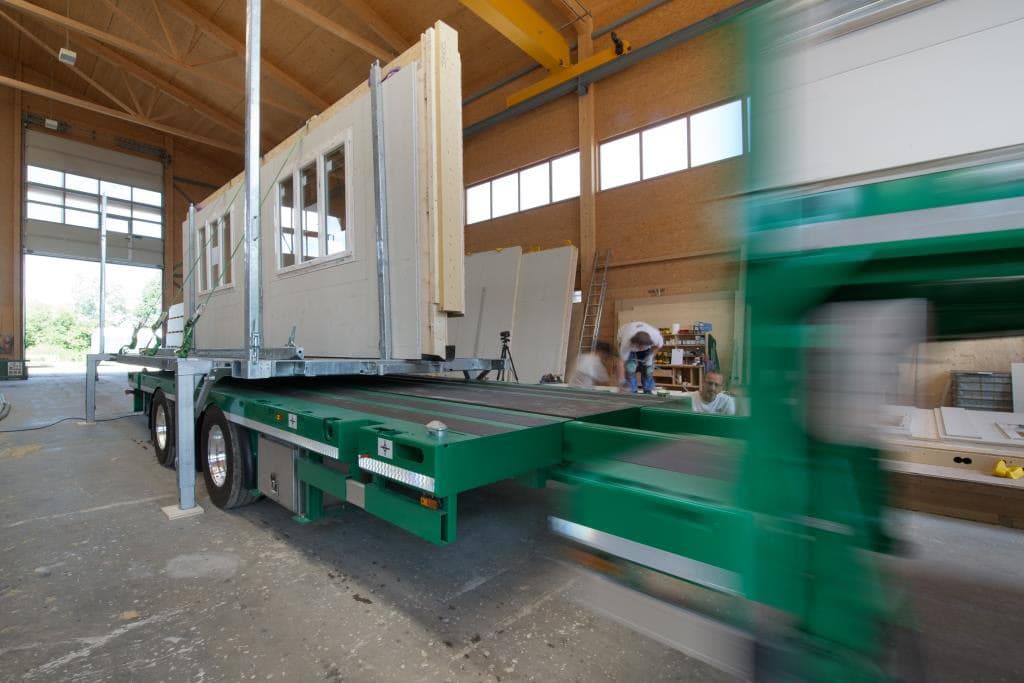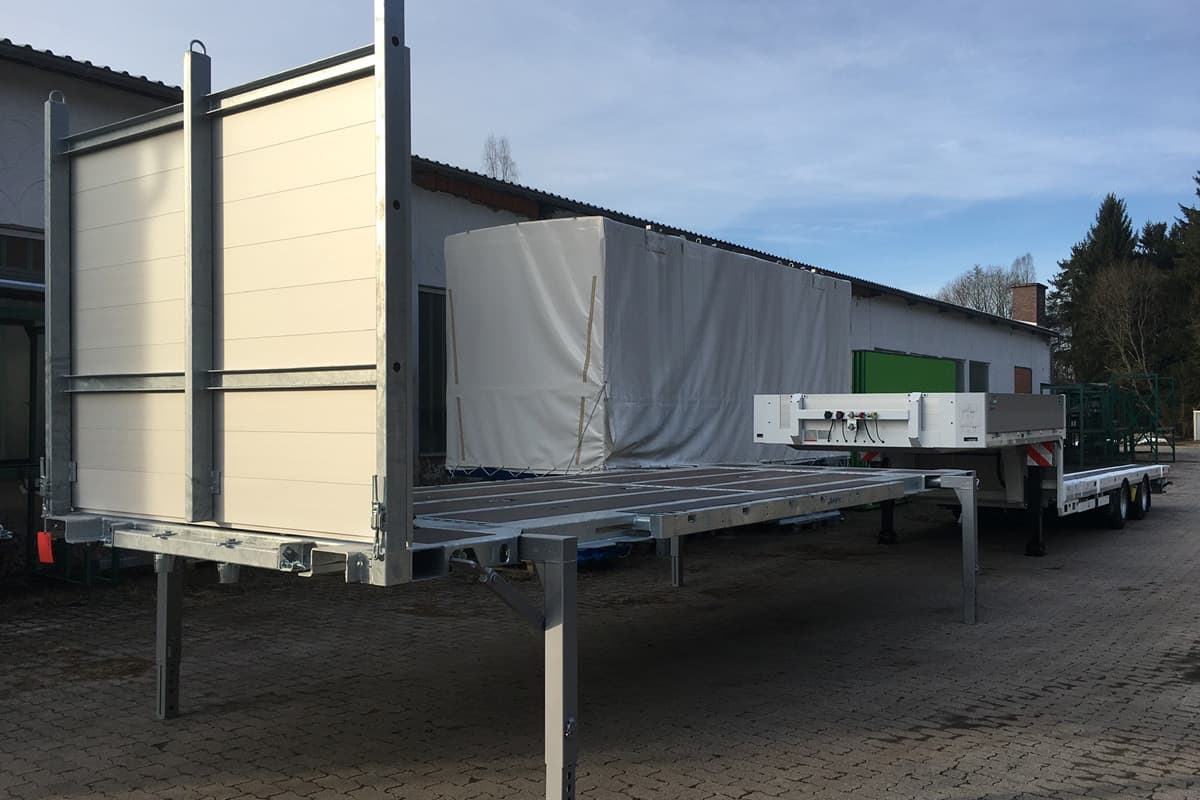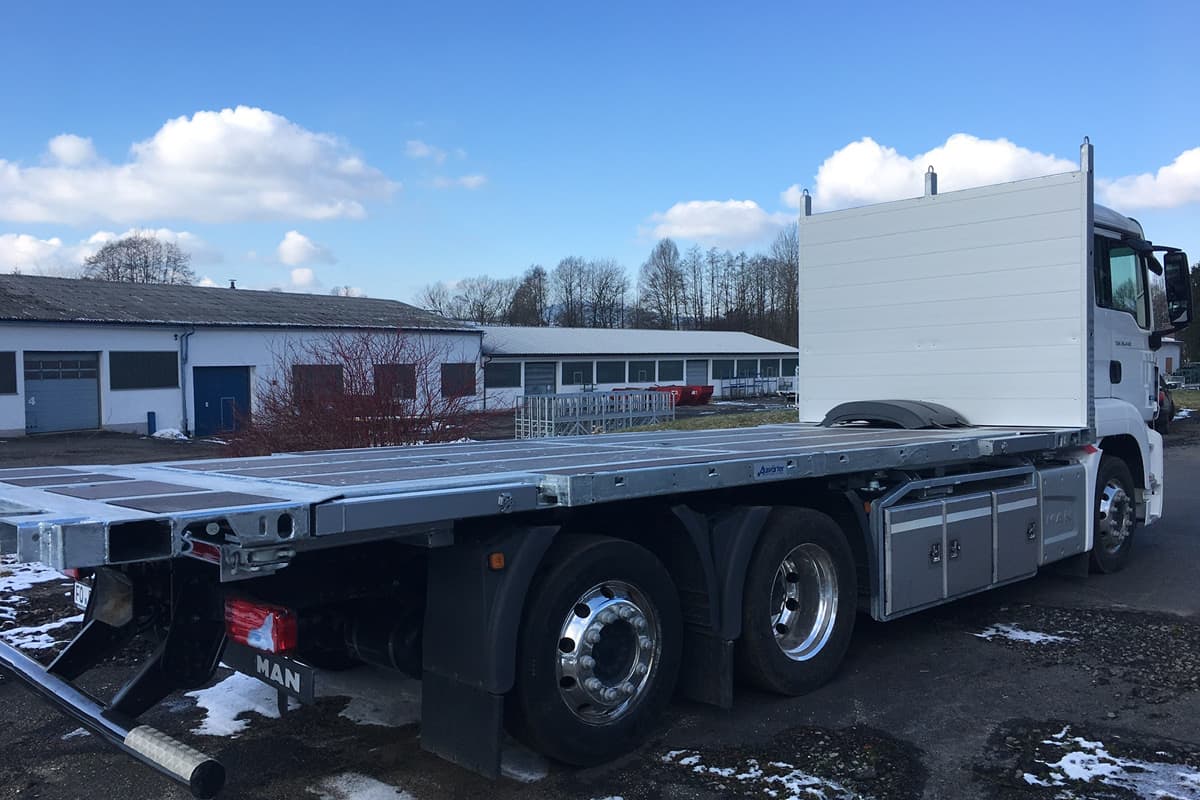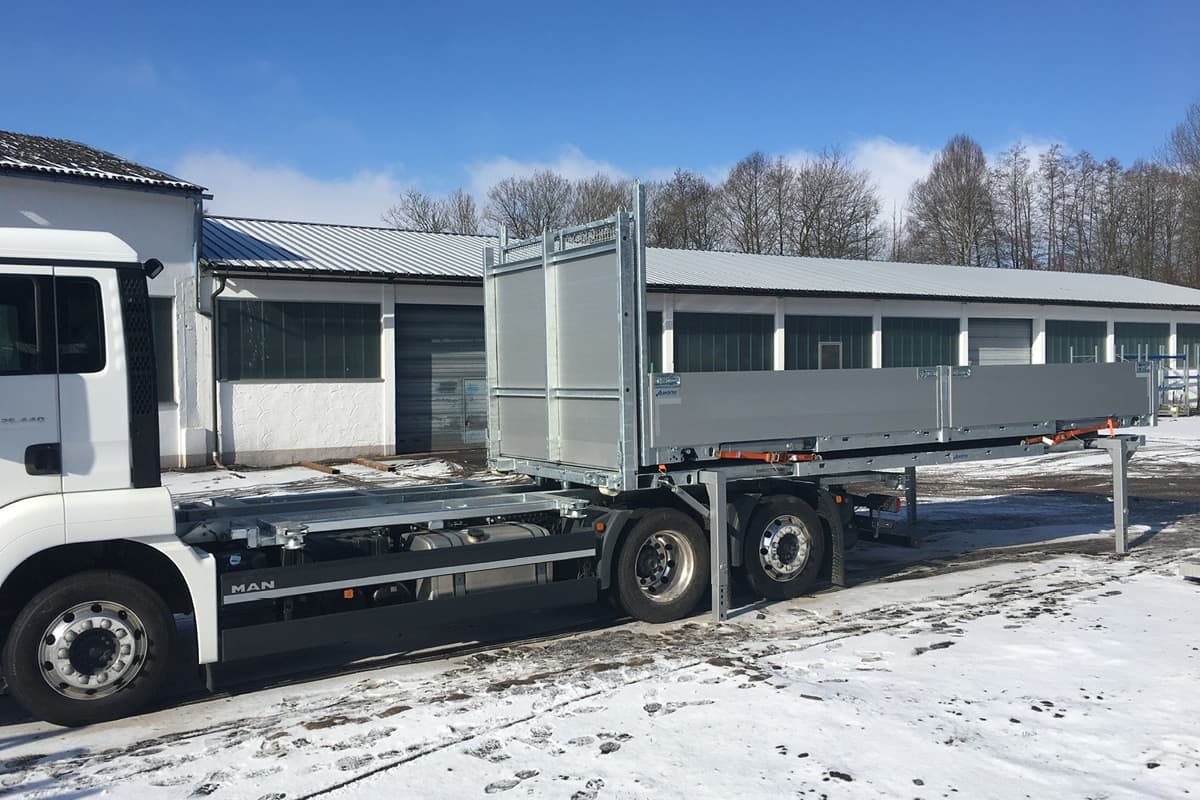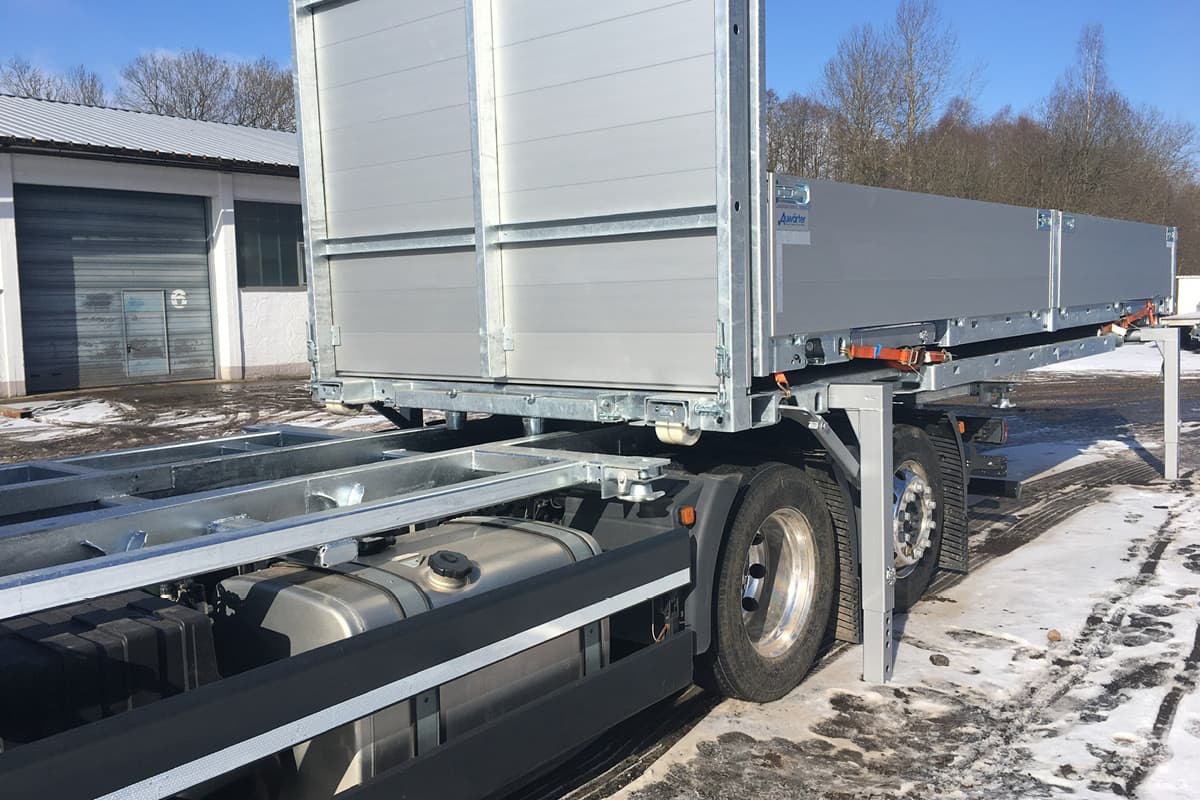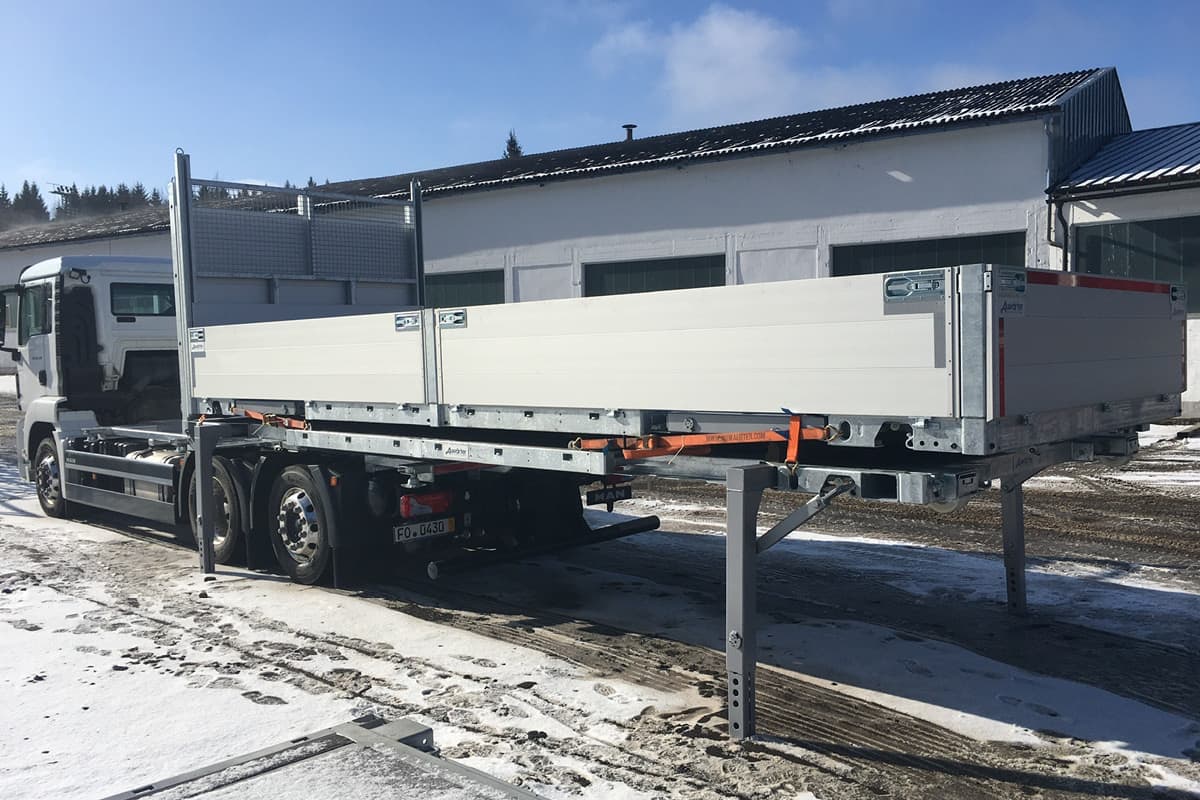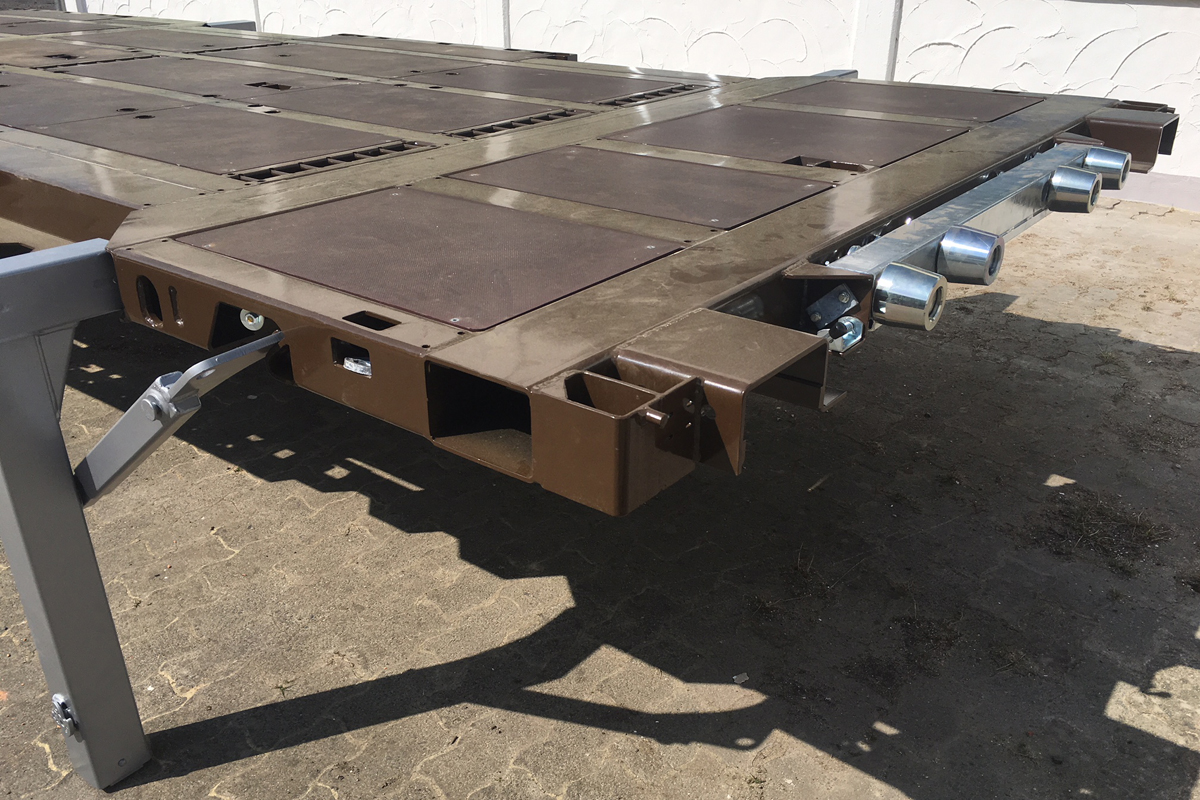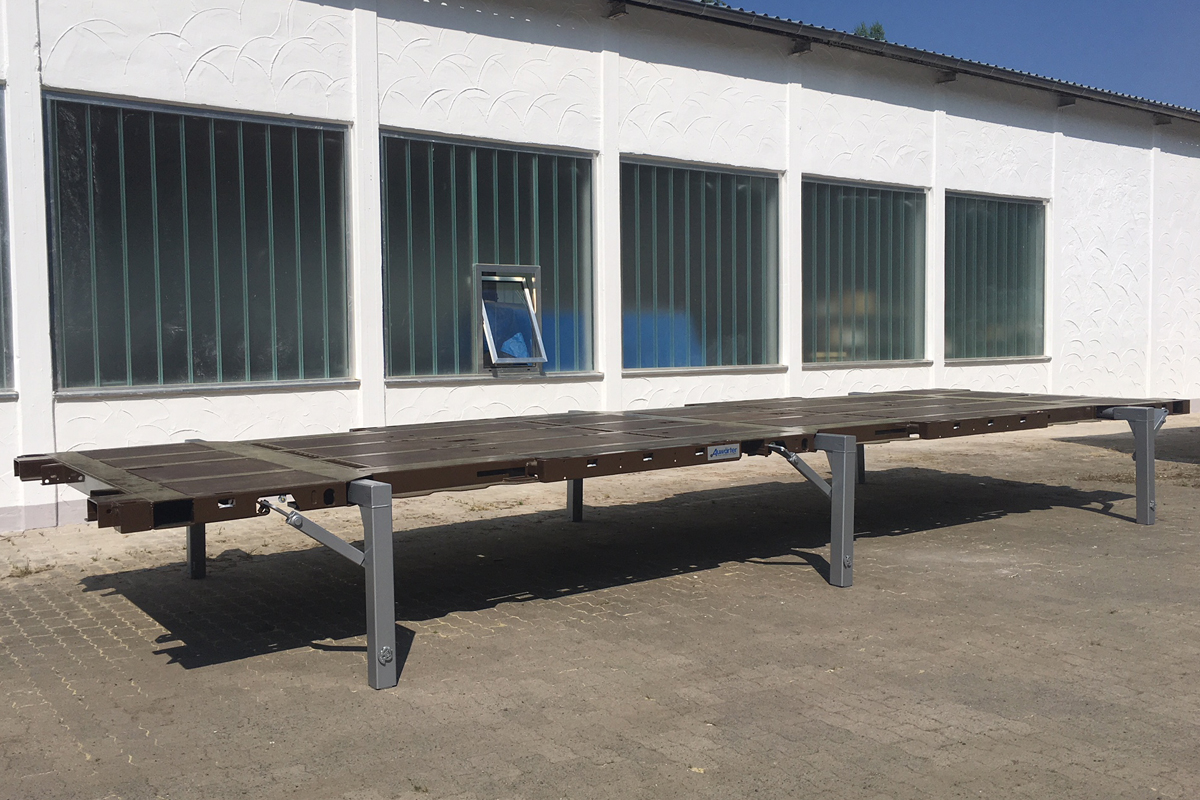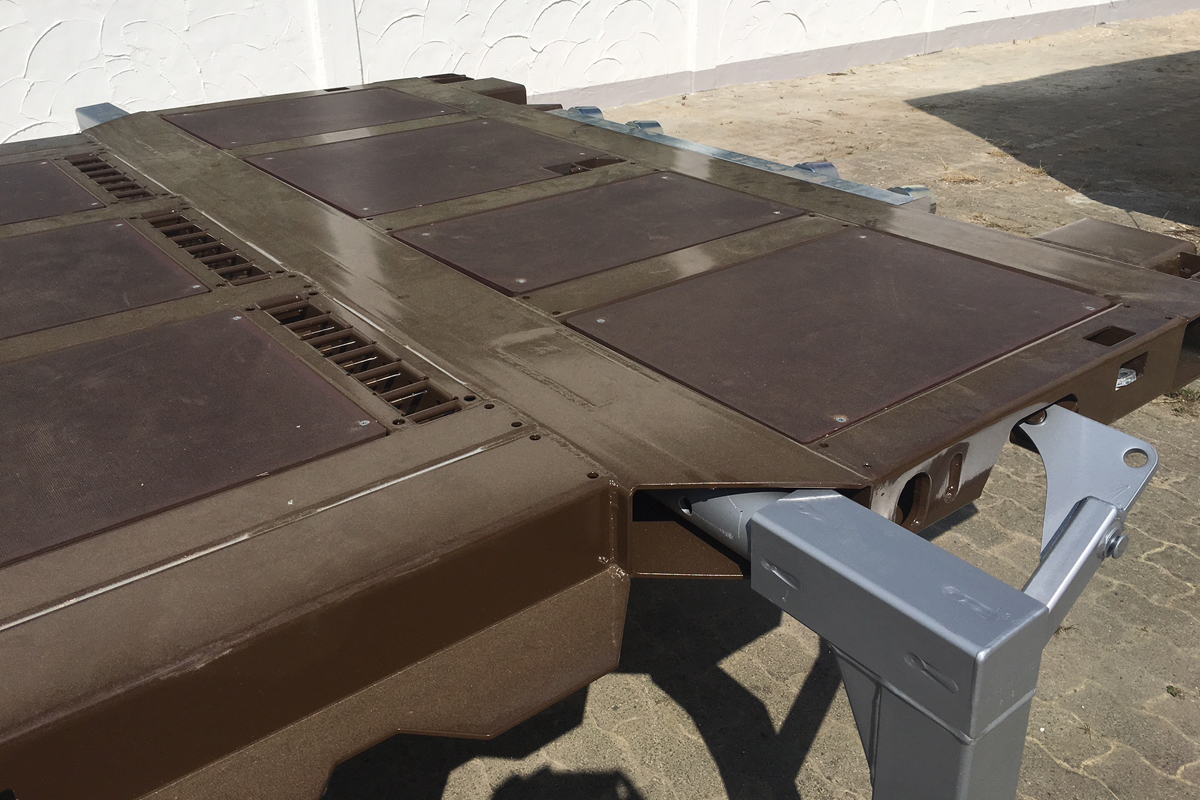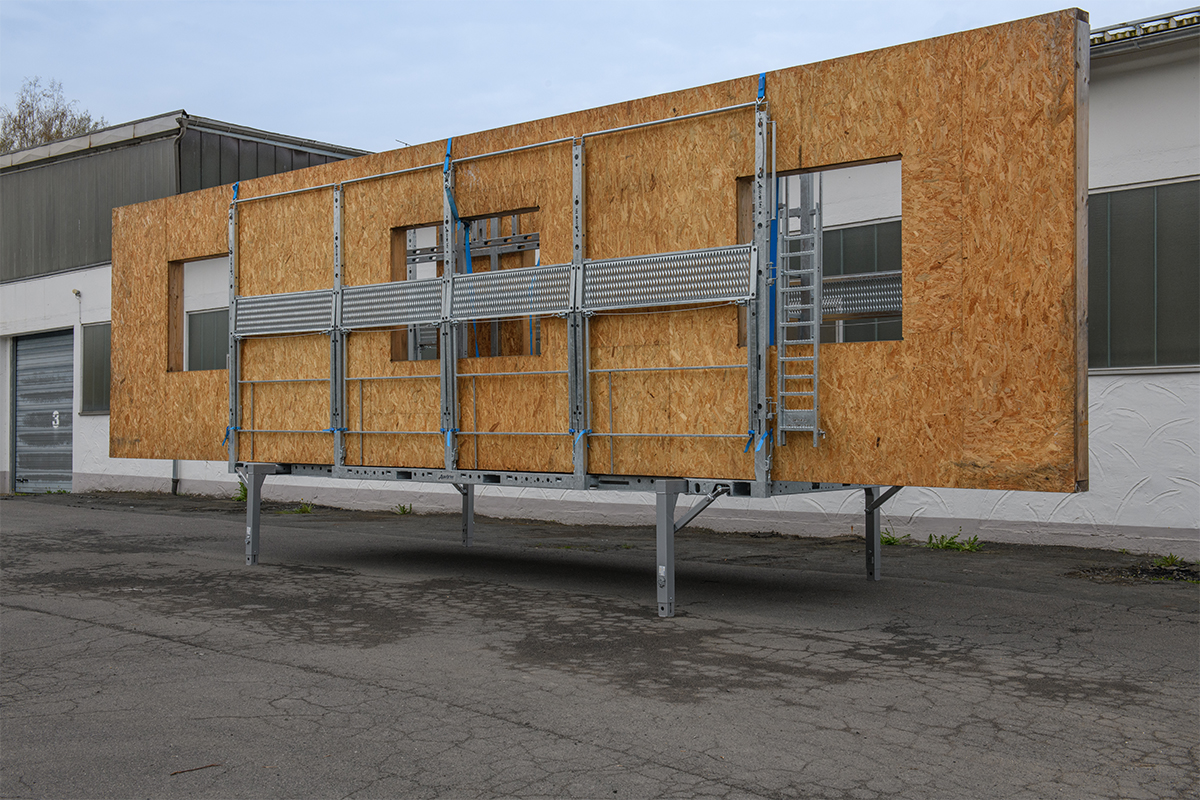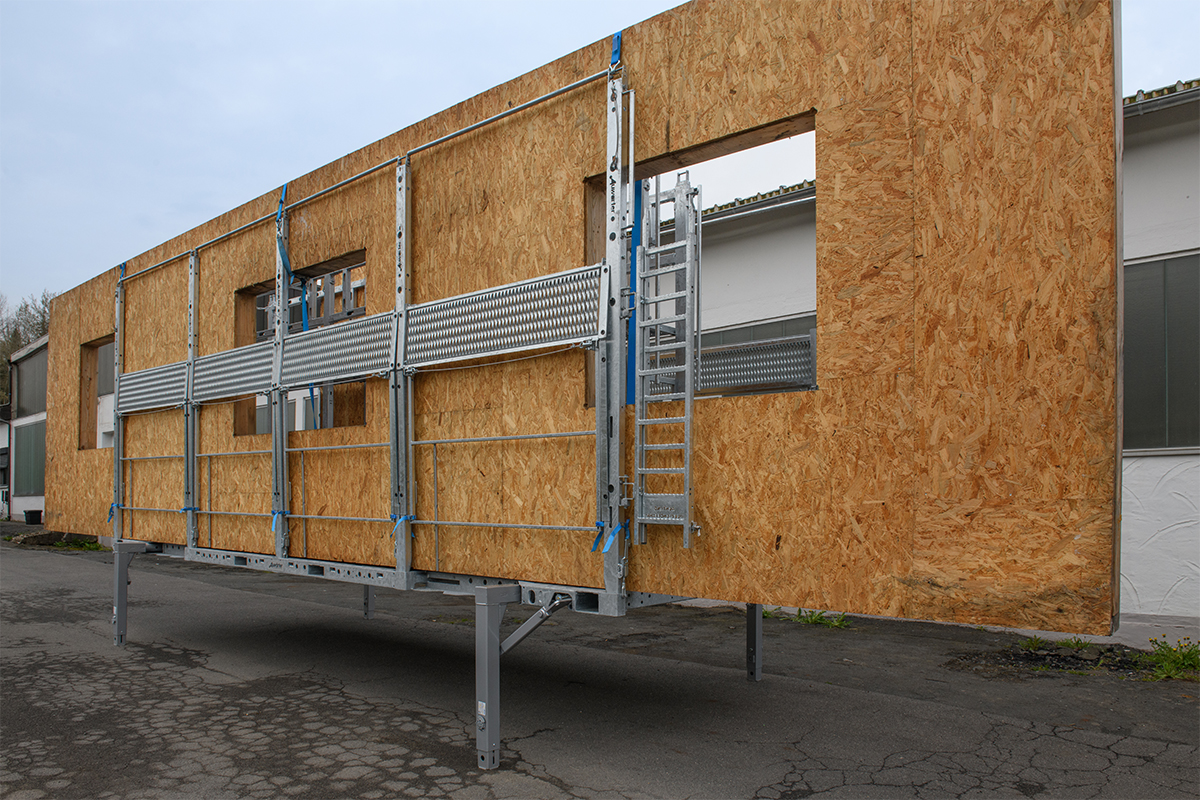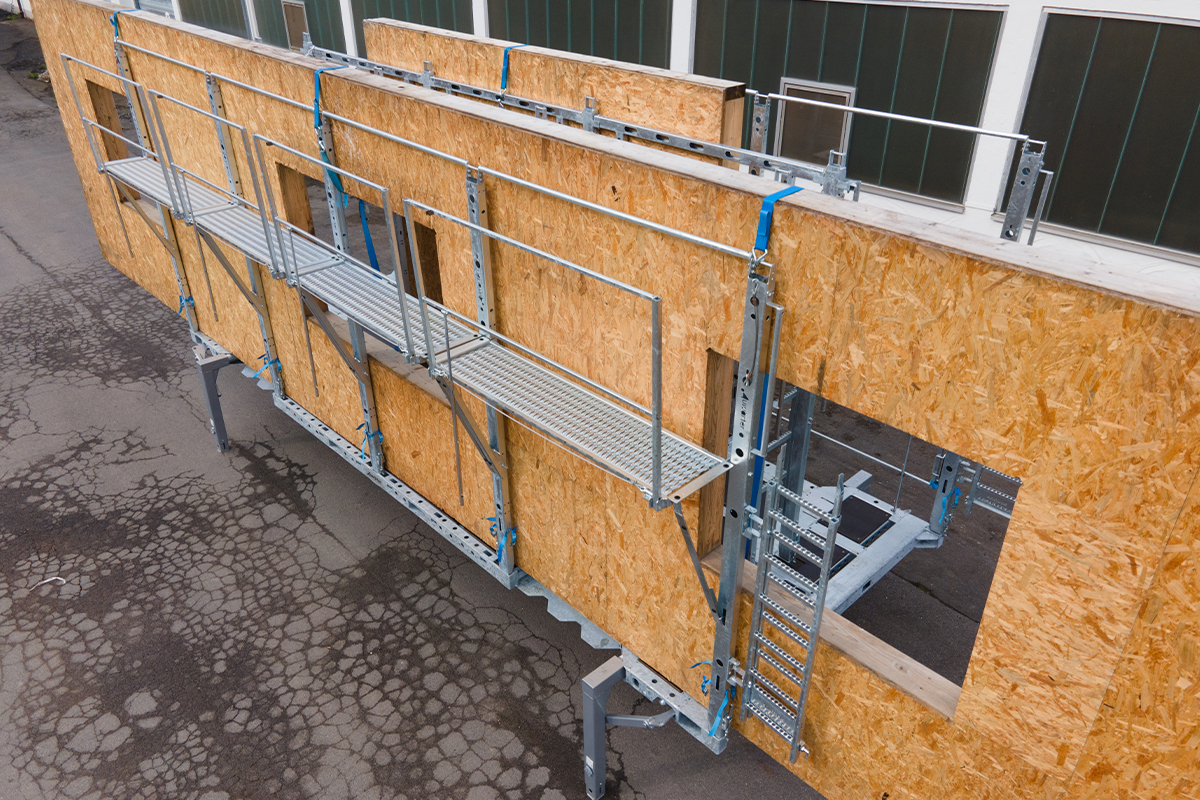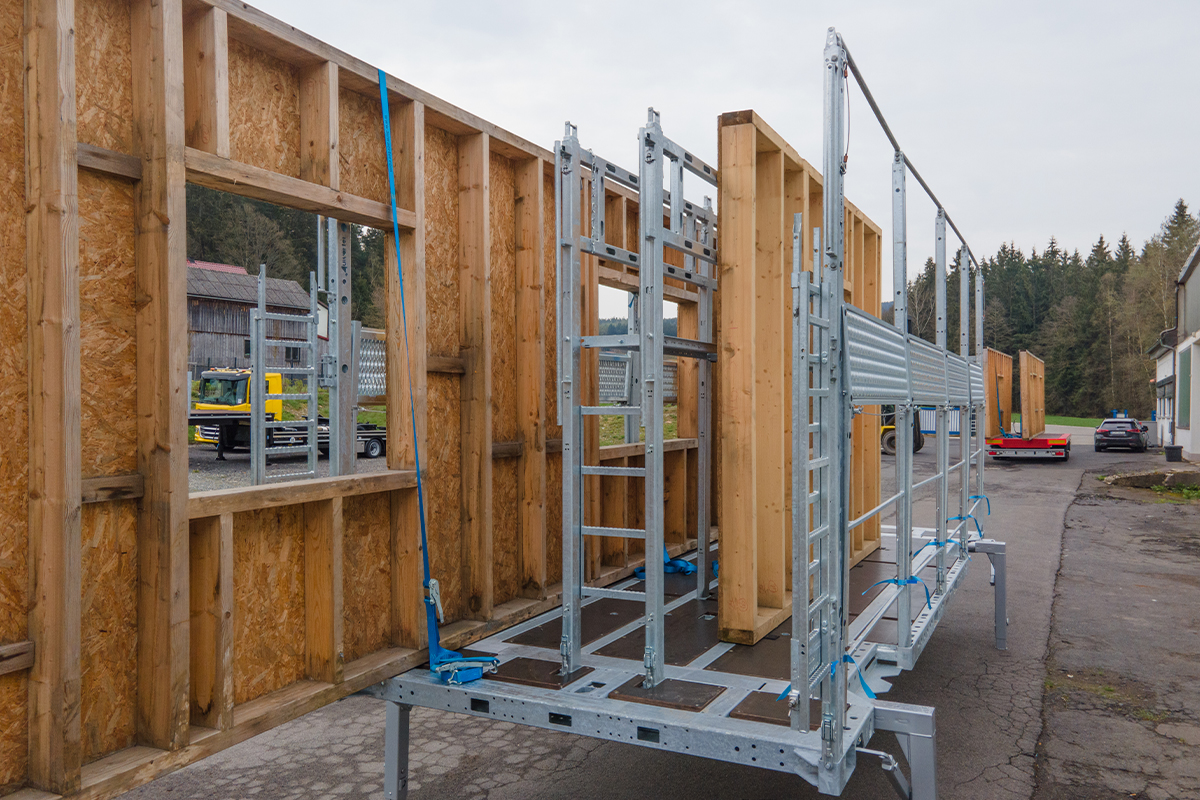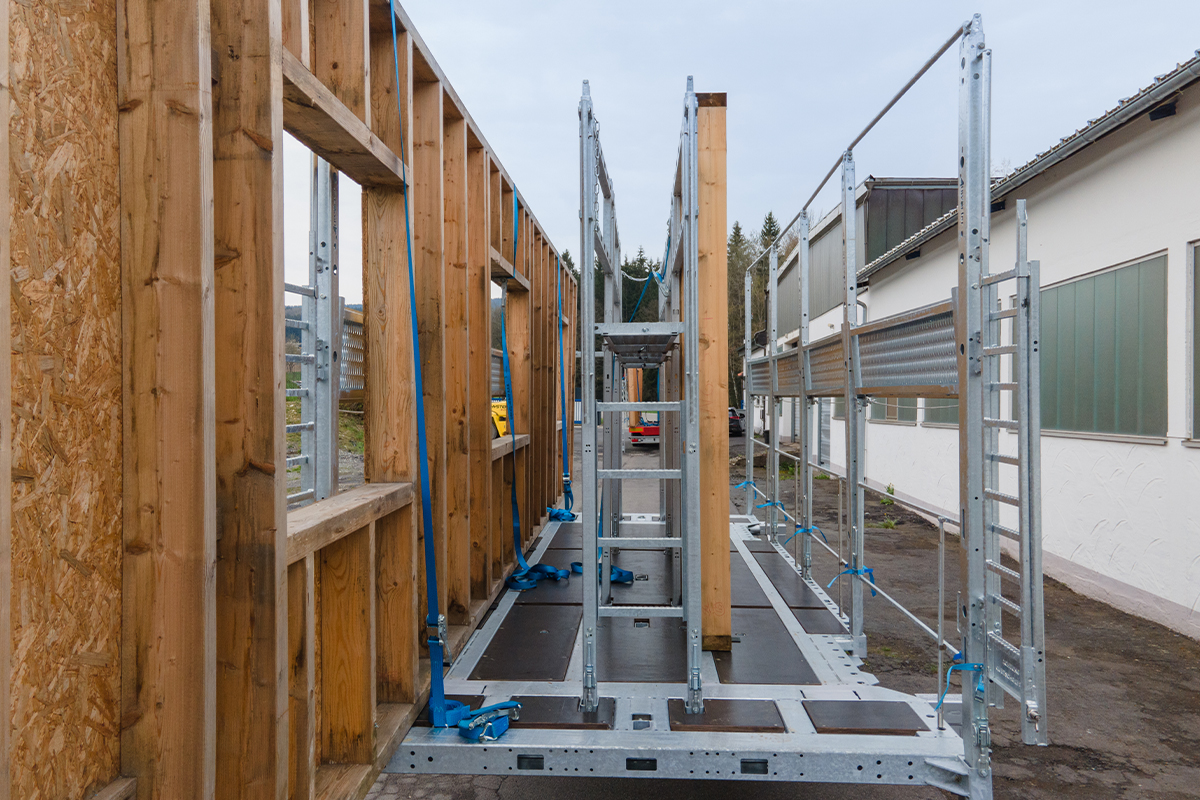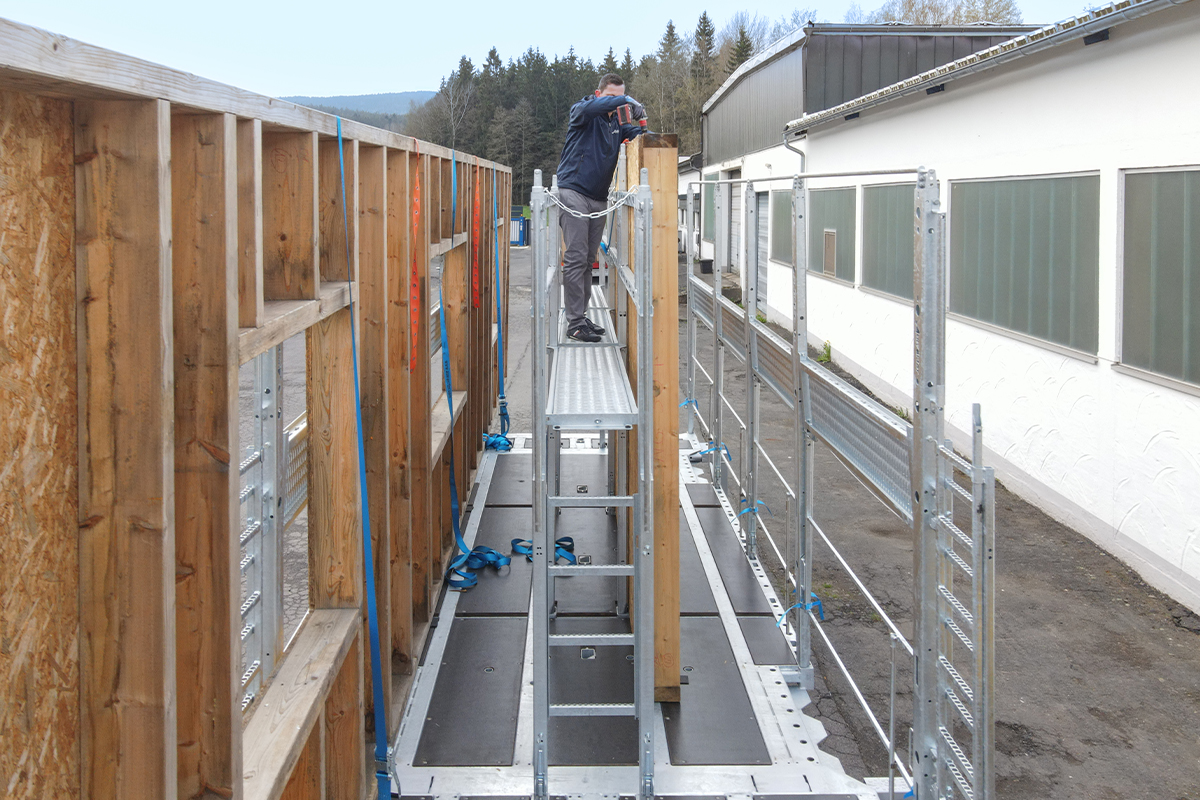 Compatible with most transport low loaders and Auwärter Tele-Cargo systems, the base version impresses with optimum maneuverability and stackability.
ca. 580 mm - 1.210 mm
Parking height
ca. 3.000 kg
Unladen weight - standard
ca. 23.000 kg
Payload standard
ca. 26.000 kg
Gross weight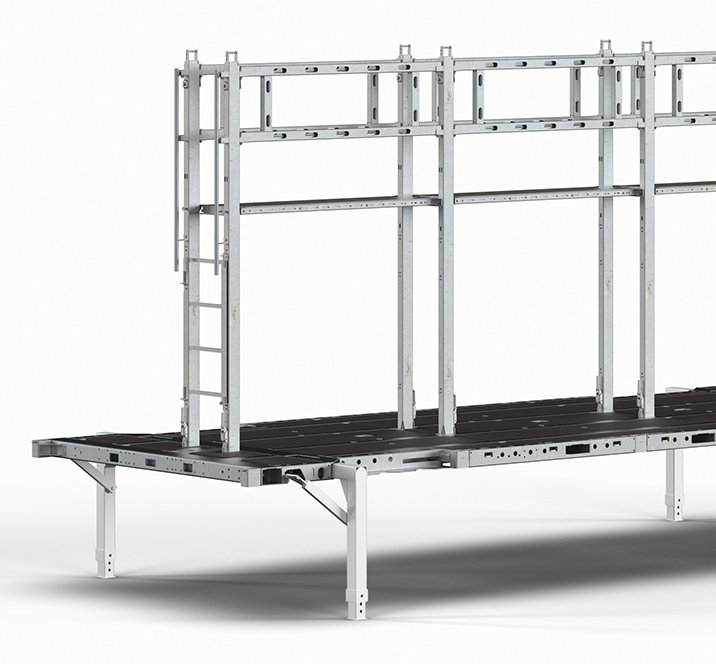 H-Bock Pro X
pluggable catwalk
no loss of loading height and capacity
100 % protection of the sling at critical height, without rope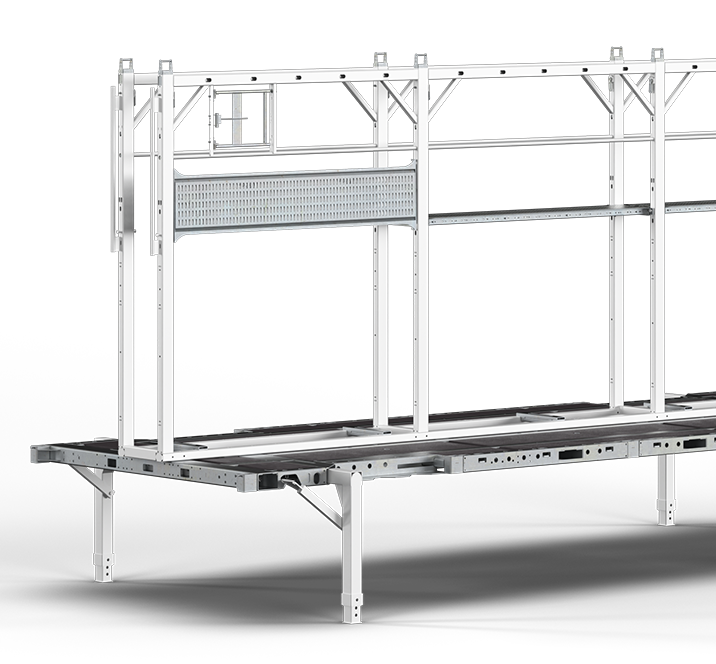 H-Bock support frame
The secure and modular side rail for protecting slingers at a critical height of over 2 m
Compatible with virtually all swap-body platforms currently in use
No loss of load space thanks to folding middle side rail
as 7 m version or 9 m version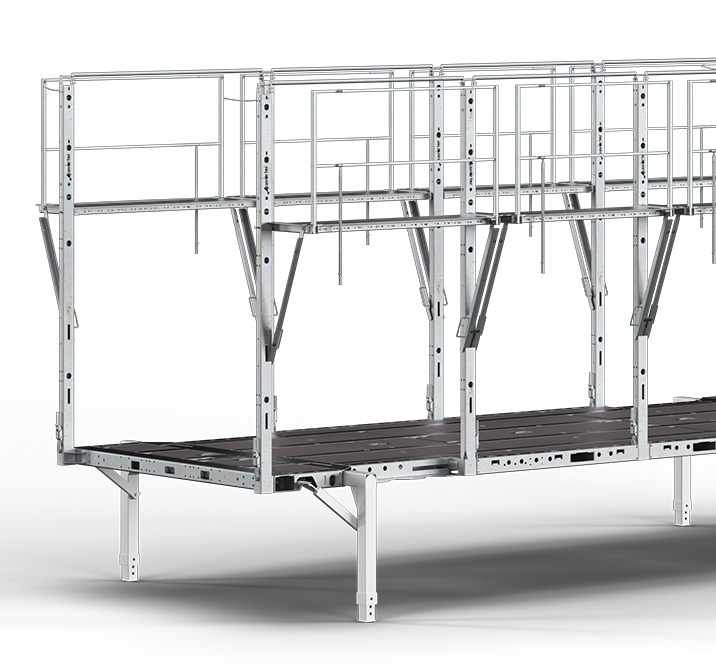 External frame
Quick and flexible mounting
Catwalk can be folded down without tools
Ladder in accessories
Efficient: no loss of cargo space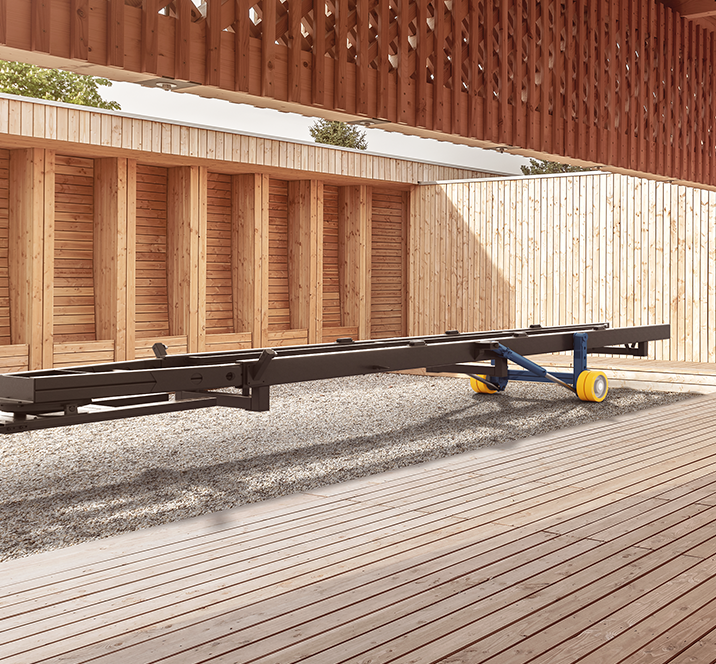 50 mm webbing
10 m, with approx. 15 grommets per running meter
For securing the wall elements while loading and unloading the trailer. Attachment of the webbing to the lashing point on the X stanchion using carabiners and to the wall elements using flat head screws.
X stake (transport stanchion)
Hot-dip galvanized rectangular tube stanchion, wedge shaped for optimum load securing of wall elements
With eccentric closure and lashing bracket at the top
height approx. 2,700 mm
can be inserted centrally and on the outside, also fit all other Auwärter trailer models
Head board
Made from hollow-section aluminum
Can be inserted into stake pockets
Can be used as impact protection
GigaBox – the new dimension in closed transport
The suitable and sustainable fixed tarpaulin structure for your XP-BDF: closable on all sides, for maximum transport volumes under tarpaulin and designed as a single-person system.
You want more information, a call back or a non-binding offer? Write to us and we will deal with your request.