The right loading, when a cross laminated timber transport has to be declared as special transport and why narrow access roads to construction sites are no longer a major problem.
Cross laminated timber transport places enormous requirements on man and machine: high payloads, long loads, bulky loads. What once seemed unthinkable is now solved by highly functional cross laminated timber trailers and heavy-duty flatbeds, which make handling with cross laminated timber (CLT) much easier for slingers, drivers and carpenters.
The ultimate challenge of cross laminated timber transport.
The solid, multi-layer CLT elements require particularly flexible transport solutions that adapt to the different and often large load lengths. For all payloads, the maneuverability and driving characteristics of the low loader have to be optimized at the same time in order to be able to operate on the ever narrower construction site in the future.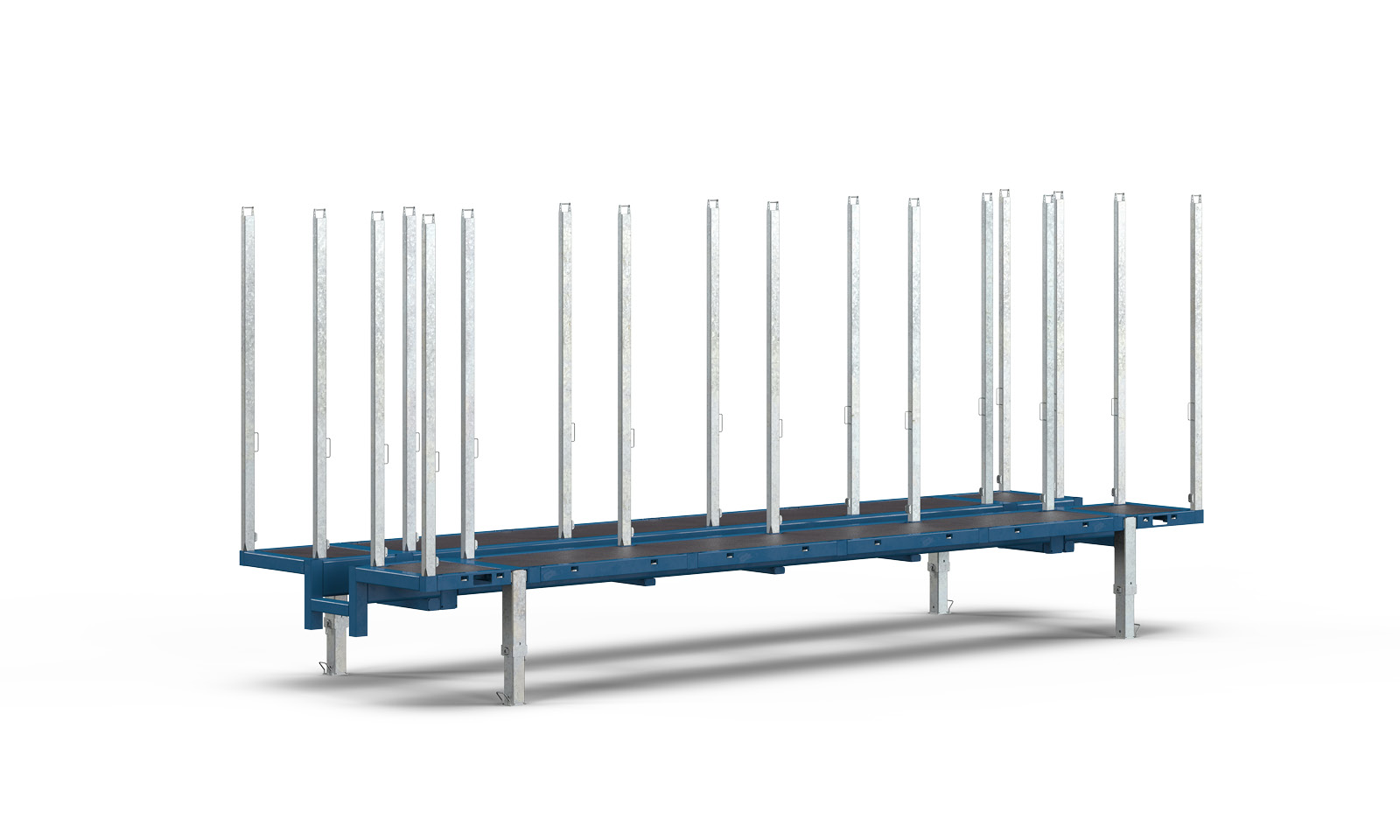 The 24 t platform changes the timber construction logistics.
In the recent past, there were no swap body platforms that could keep up with the increasing payloads of carpentry businesses, but now the new 24 t platform generation from Auwärter provides all options for storing CLP ready for transport, transporting it safely and securing it individually. With a load capacity of up to max. 24 t, the up to 9 m long X-SWPU370 low-bed platform is one of the strongest swap body platforms with the most functions in modern construction timber transport. It can be stacked, is particularly light thanks to its stable lightweight construction and ensures that the wall and cross laminated timber elements can be accommodated at a comfortable loading height of just 1,000 mm.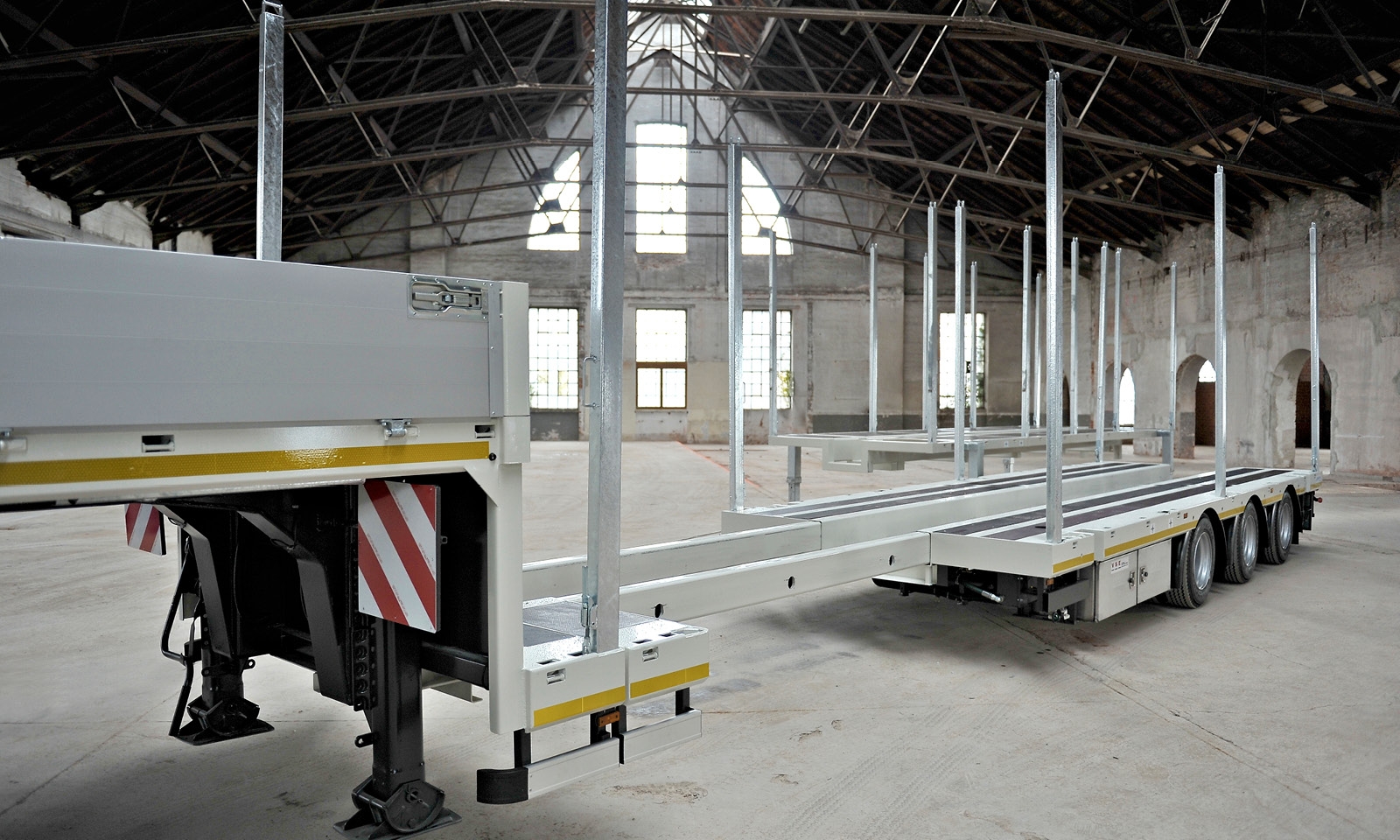 Flexibility in all dimensions! The cross laminated timber trailer X-SW370.
With its low overall height and wide low-bed design, the X-SW370 provides optimum conditions for the vertical or horizontal transport of cross laminated timber elements up to 14.5 m long. Rafter lengths of 20 m can also be transported easily thanks to the drawbar that can be extended by three meters. The payload in series is an impressive 30 t.
"In close cooperation with carpentry businesses and timber house builders, we have developed an extremely lightweight, powerful and maneuverable low loader. Today, the X-SW370 is the industry benchmark for cross laminated timber transport".

Raffael Auwärter
The X-SW remains extremely maneuverable despite its transport length and payload. The cross laminated timber semi-trailer scores here with exceptional maneuverability and comfortable driving characteristics. The reasons for this are its particularly low load center of gravity and the ETS steering system, which provides maximum maneuverability particularly in narrow construction sections and curve radii.
"The driver has to adapt because it's so easy".

Jürgen Gottschall, Managing Director of Zimmerei Gottschall in Thaleischweiler-Fröschen
The basic version of the telescopic truck semitrailer can be upgraded to a swap system at any time as required with the matching 24 t platform and low-bed swap bodies. This gives you flexibility in load planning and significant advantages in load handling. If required, you can temporarily store the load on the easily maneuverable swap-body platform, e.g. directly on the construction site.

Safety first!
The larger the load, the higher the load securing requirements. Transport stanchions (X stakes), load-securing rings, loading aids and an fall protection system give you all the freedom you need to secure the CLT boards quickly and efficiently - both with and without swap body platforms. In addition to the on-board safety tools, loading should only be carried out by experienced and trained slingers, naturally in compliance with the applicable accident prevention regulations (UVV).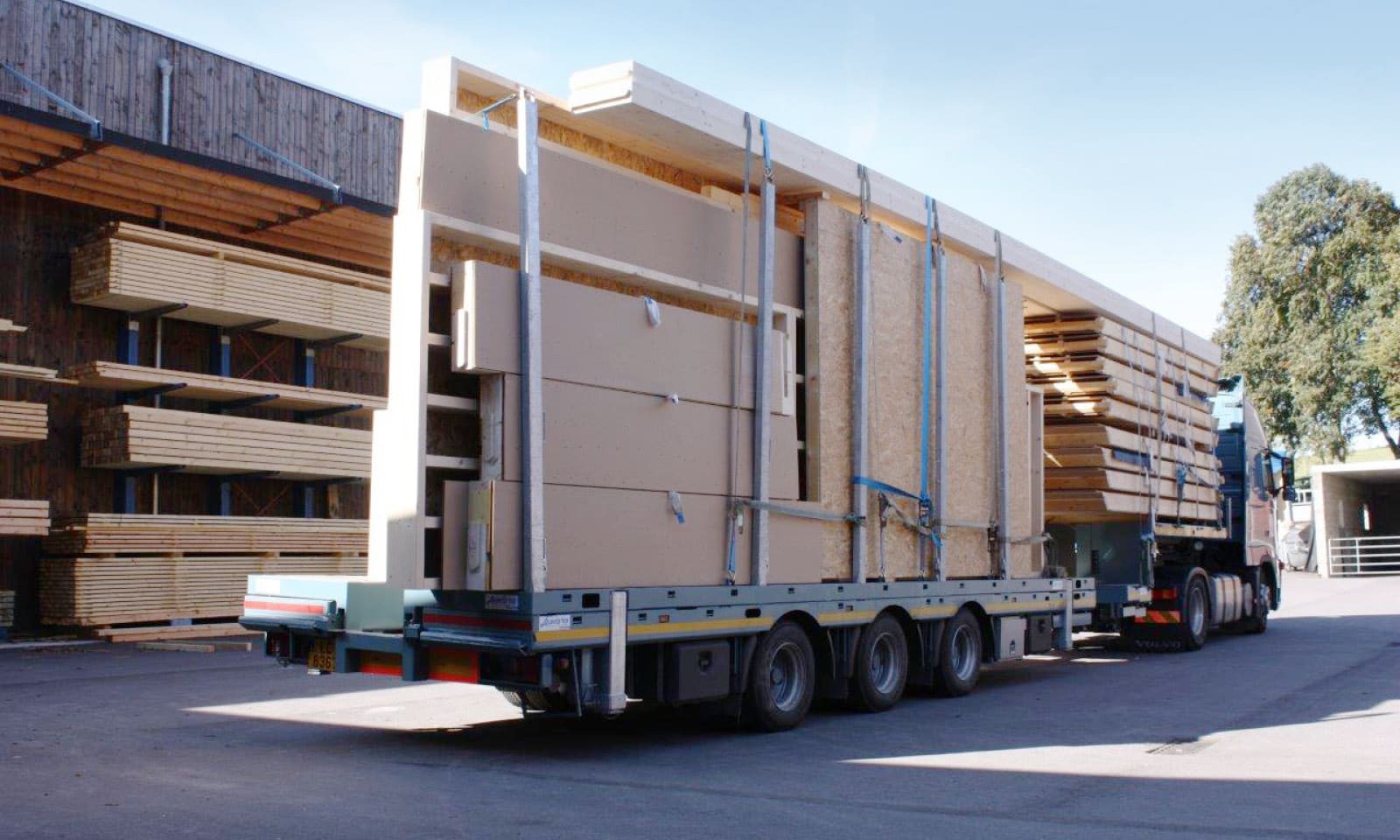 Vertical or horizontal? Vertical.
Many carpentry businesses still transport CLT horizontally, as there have been hardly any suitable loading systems to date for vertical transport. The horizontal elements often exceed the prescribed maximum width of 2.55 m and must be declared as special transport with costs according to the applicable country regulations. In contrast, vertical transport provides clear advantages: more transport volume by utilizing the maximum height of 4 m, simpler handling during loading, and less damage due to pressure effects such as creep deformations. In contrast to horizontal transport, the assembly order is no longer decisive. The cross laminated timber elements can be safely unloaded from the truck from above using cranes with appropriate lifting anchors and installed directly.
Thanks to the well thought-out design and numerous possibilities for the placement of stanchions, the CLT elements can be quickly and easily loaded vertically in the X-SW370. The H-Bock, a fall protection system without ropes, also facilitates the attachment of the CLT elements at a critical height of three to four meters without losing valuable load volume.
What you should bear in mind when storing and transporting your BSP boards:
Protection of components against moisture and dirt, particularly at welding or cutting points on steel parts.
Quickly remove the transport film to prevent condensation or mold growth.
Tilt-proof storage of cross laminated timber walls and ceiling elements with sufficient clearance from the floor.
Only use appropriately designed lifting anchors and slings for loading.
To protect the CLT elements from the weather during transport or intermediate storage, cover them with tarpaulin or film.
Costs may be incurred if specified transport widths and lengths are exceeded.
When do special transports incur costs?
In the case of open transport, dimensions exceeding 16.5 m in length and 2.55 m in width must be declared as special transport subject to a charge. A load width of 2.45 m must always be complied with for closed transports. There is also a clear upper limit of 4 m for the maximum transport height. In this context, you should observe the applicable country regulations and loading guidelines such as BBS 125 and BBS XL.
Width > 2.55 m
Load length > 16.5 m
One last tip:
When planning and organizing your transport, you should be familiar with the relevant construction site conditions and check for curve radii and passages. With all the maneuverability of our telescopic trailers, you can prevent costly surprises in good time. It is of course advisable to ensure smooth access and exit possibilities in advance.